News
Working together, improving lives
March 2022
10 Facts About The Healthcare Industry You Don't Know!
As part of National Careers Week, at Dean Healthcare, we're taking a deep-dive into the British healthcare industry and discovering some of the incredible insight and statistics which highlight the importance of health and support workers across our country! - Here's 10 facts you don't know about healthcare!
1. The NHS is bigger than you think
The NHS is the largest employer in the UK, with 1.5 million employees (representing 4.9% of the working population) It's also the world's 5th biggest employer!


2. Those looking for a job in Healthcare often succeed
94% of all Nursing graduates find employment in the field within 6 months of completing their degree! That's one of the highest employment success rates in any industry.


3. Care roles are plentiful and need filling
There are approximately 112,000 care positions available up and down the country at any one time! Forecasters predict there to be an additional 3.2 million healthcare roles created by the end of the decade. Why not see our available positions here - www.deanhealthcare.co.uk/jobs


4. There are more care home residents than you might think
Care home residents number 418,000 people in the UK, across 21,000 care homes. To put that into perspective, that's as many people as there are in the city of Bristol - where one of our branches is located!


5. Demand for Nurses in the UK is high
Nurses account for 7.8 in every 1,000 people in the UK. Although this figure might sound a lot, the average for developed nations is 8.8 Nurses in every 1,000. Norway holds the title in Europe for most Nurses per person, with 17 for every 1,000 people.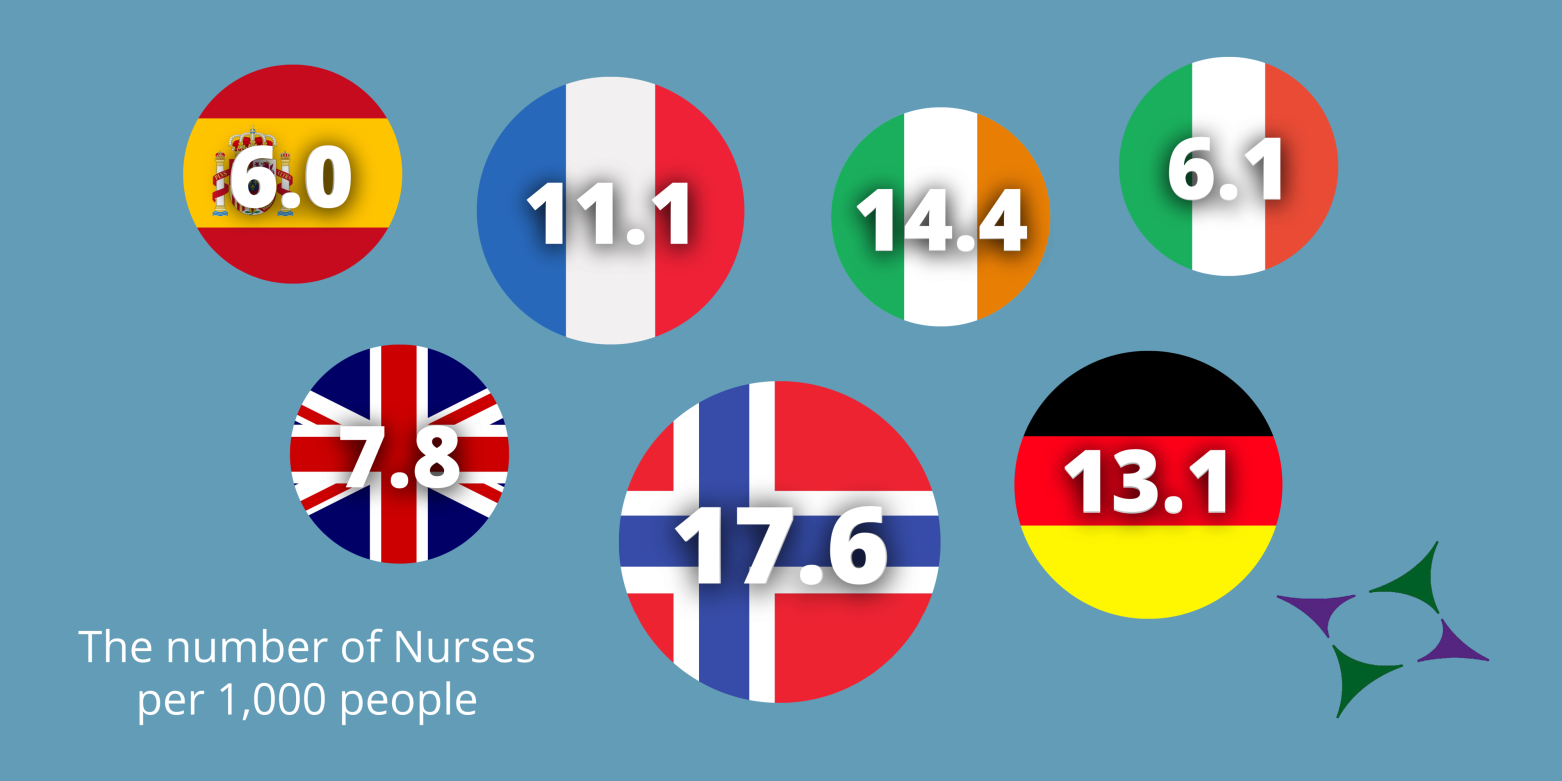 6. Demand is also high for mental health nurses
Mental Health Nurses number 90,000 in the UK. While this figure is growing, it's still far from national targets. Experts predict a sharp rise in interest for those studying Mental Health Nursing as a result of the pandemic.

7. Interest in becoming a Nurse is growing too
In 2020, 37,365 nursing students were accepted onto courses across the UK. This represents an increase of 23.8% when compared with 2019.


8. You can't put a price on health! Or can you?
The UK spends £2,490 for healthcare related needs per capita. This puts the UK as the 18th highest healthcare spending country. The USA, Switzerland and Norway take first, second and third place, respectively.


9. Your contribution to healthcare goes a long way
An estimated 18% of a person's taxes goes towards healthcare in the United Kingdom. This represents approximately 4.5% of an individual's standard income. This assists the 564 million patient interactions had with GP, hospital, mental health or ambulance services each year.


10. Healthcare recruitment is big business
There are an estimated 550 established healthcare recruitment companies in the UK and Dean Healthcare is one of them! We were established in 2005 and our incredible health and support workers provide care across the South West and Wales.

There we have it! 10 incredibly insightful facts about healthcare in the UK. Do any of these figures surprise you? Have you learnt something about the industry?
If this has inspired you to consider a new role in healthcare, where you can provide care and support to those in our community most in need, why not check out our latest job roles in your area? - www.deanhealthcare.co.uk/jobs
We now have a second edition of this blog, with 10 more facts about the Healthcare industry you don't know, which you can read by clicking THIS LINK!